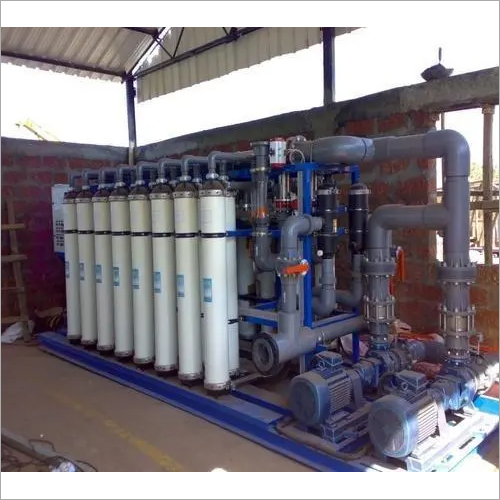 ultra filtration system
Product Description
Ultra filtration System is proposed in pretreatment and posttreatment. Ultra Filtration work on cross flow filtration principle anddesigned operates at around 85% recoveries. Ultra Filtration is atangential flow, pressure driven filtration process that separates particles onthe basis of their molecular size. Pore diameters of ultra filtration membranesare in the range of 10 to 200 A (0.001 to 0.02 micron). Solvents and specieshaving a diameter smaller than the pore size of the membrane will pass throughthe membrane and emerge as ultra filtrate, known as permeate. Rejected speciesare progressively concentrated in the retained stream. Ultra filtrationmembranes are reusable and cleanable with standard chemicals.
Features :
• Compact unit with robust mild steel powder coated frame .
• Range of models with capacities from 30LPH upto 100m3/Hr.
• Built in safety features to protect membranes from highpressure.
• Fully assembled and tested before dispatch.
• On-line device to monitor treated water quality.
Advantages :
• The most economical &efficient method of dissolved solidsremoval.
• Easy to startup and uses very little space on solids in feedwater.
• Can handle fluctuations of total dissolved solids removal.
• Easy availability of spares and service.
• Short delivery periods.
Applications :
• Removal of virtually all particulate matter, suspended solids,bacteria, viruses, and pathogenic species from pharmaceutical and industrialprocess water.
• Removal of colloidal material (non-reactive silica, iron, aluminum, etc.)
• Removal of high molecular weight organic.
• Therefore, the product stream will contain water, ionicspecies, and low molecular weight material, whereas colloidal matter, particles, bacteria, viruses andpathogenic species will be rejected by the membrane.
• Pretreatment for Mineral water plants.
• High purity water for hospital for use in dialysis units.
• As a retrofit to demineralisation plants in industries toreduce regeneration chemicals.